- If you are an Institutional Investor
Deal sourcing
COPE Private Equity's long establishment in the local Private Equity scene equips the firm with quality referrals and direct deal sourcing capability. This affords COPE Private Equity proprietary deals in a market where quality deal flows are key ingredients to overall fund success. Proprietary deals will also reduce fund exposure to businesses acquired at rich valuation in auctions run by market intermediaries.
We invest primarily in :
Growth stage companies requiring capital;
Operationally viable mature companies in turnaround situations, including those with distressed capital, where there is opportunity to be strategic investor; and
Mezzanine investments where we take a senior or preferred position in the capital structure.
Geographical focus
We invest mainly in Malaysian and ASEAN businesses with regional exposure. This allows us to reduce investment and counterparty risk due to familiarity with the local market, whilst having an exposure to the fast growing middle class of South East Asia.
Sector focus
Our investments are not limited to any specific industry but must be Shariah-compliant.

We consider the following sectors to be in a sweet spot in benefiting from the long term demographic trends of the region: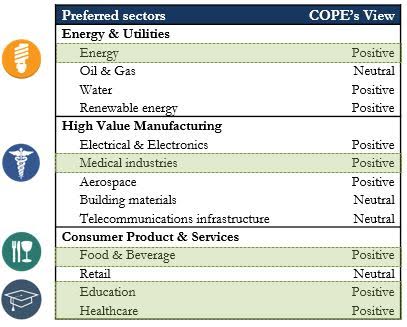 We do not invest in start-ups, commodity, property and construction-related companies.
Deal evaluation
Due diligence and decision making progress
All deals undergo strict and vigorous evaluation process. To this purpose, COPE Private Equity is equipped with proprietary deal tracking database, industry standard evaluation tools and access to private market database with statutory and financial information.

We are a firm believer in idea meritocracy that allows analysts to test and retest investment thesis and structure to perfection.
Value creation
Creating value for our investee companies is our raison d'etre. The key levers we use to add value are:
Setting of appropriate KPIs for key management;
Setting of 100-day and 3-year plan;
Improvement in financial reporting and operational procedures by industry experts;
Referral of business opportunities;
Advisory on M&A scenario;
Improvement in corporate governance;
Guidance and handholding on the IPO process.
Please refer to case studies of our value creation here.
Exit strategy
Potential exit path are identified early during the due diligence phase.
Environment, Social and Governance (ESG) Policy statement
At COPE Private Equity, we believe that sustainable and responsible investing is not only the right thing to practise as a good corporate citizen, it is also the smarter way of doing business.
As a result, we take ESG (Environment, Social and Governance) seriously at the onset of selecting portfolio companies, preferring business owners who share similar views.
Before investing, we perform thorough due diligence to understand potential risks from ESG perspective. To the extent that the risks are material, we will implement remedial action via our 100-day plan and monitor the progress of the company in breaching the gaps.
- Contact us
If you think we will be a good fit for your fund or business, please write to us. We would love to hear from you.
Our Location
COPE Private Equity Sdn Bhd
Office Suite 1, Level 8, Ilham Tower, No 8, Jalan Binjai, 50450 Kuala Lumpur, Malaysia.
- Write to us